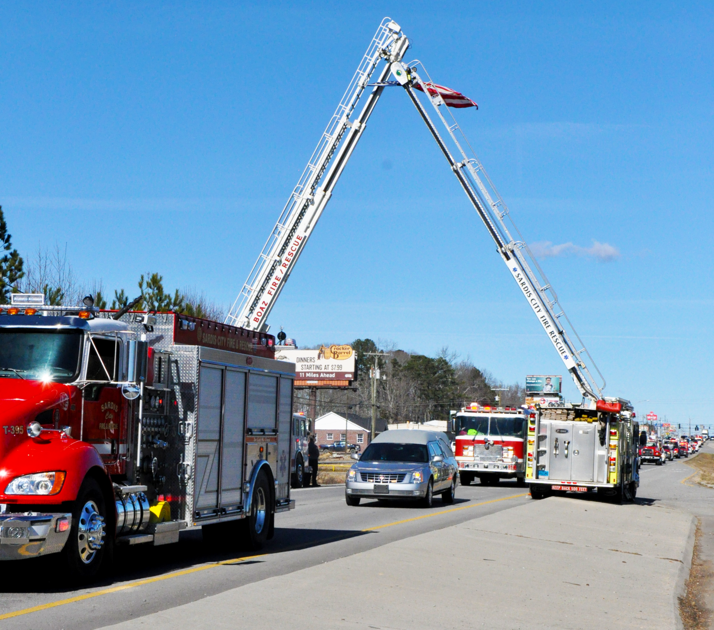 Two Sardis City and Boaz fire trucks held an American flag over US 431 Monday morning to honor the late David Devin, a longtime Sardis City firefighter.
An escort with more than 25 firefighters followed the hearse carrying Devin's body to Whitesboro Baptist Church on Monday.
Devin died on January 13th after battling cancer.
After the funeral, Devin's coffin was loaded onto a fire truck and driven to the church cemetery.
"I'm over the moon with the turnout," said Johnny Crosson, Sardis City volunteer fire chief, before the funeral.
"There are so many men and women out here to support David's family and show their respect for him. That means a lot. "
The procession left McRae's Funeral Home at 11 a.m. heading south on US 431 to Sardis City. The carts were placed over the south-facing lanes on the Etowah / Marshall County line.
Traffic stopped in the northbound lanes as the procession passed.
Crosson said the procession and flag are often reserved for the honor of firefighters who die on duty. He knew, however, that Devin loved all kinds of vehicles, especially fire trucks.
"I went to the family. I knew David loved all kinds of vehicles, but especially fire trucks with lights and sirens, "Crosson said.
"We did that for him."
During Monday services, the Boaz Fire Department will handle all calls to Sardis City VFD out of solidarity, said Jeff Beck, Boaz fire chief.
Devin is survived by his wife, Tammie Devin from Boaz; Sons, Matthew Devin, Eli Devin
and Luke Devin, all Boaz; Daughter Maddy Devin of Boas; Grandchildren, Blade Devin, Scythe Devin, and Malice Devin; Mother Barbara Ann Devin von Boas; Sister and brother-in-law Janetta Devin and Charles Thigpin from Florida; and niece Alexandra Devin-Thigpin.
The family did not request flowers, but asked for donations to the voluntary fire department of the city of Sardis. Postal donations to Sardis City VFD, C / O Sardis City Hall, 1335 Sardis Drive, Sardis City, Al. 35956. Donations can also be left in the town hall.
The procession was attended by trucks from Boaz FD, Sardis City VFD, Mountainboro VFD, Egypt, Highland Rescue Squad, Attalla, Sand Valley, Ivalee, Blount Emergency Services, Aroney VFD, Douglas VFD, and Union Rescue Squad.