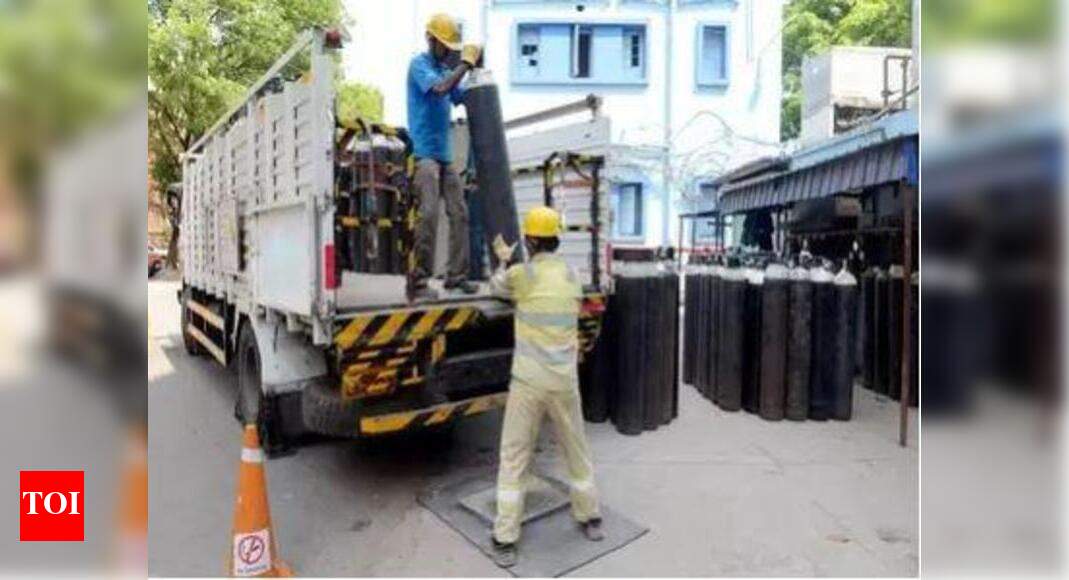 MUMBAI: An oxygen tanker heading towards a hospital in Dhule district was forcibly diverted two days ago, prompting state police to decide whether to escort such vehicles. Police have also started crackdown on remdesivir black marketeers, registering 18 cases across the state in five days.
"We have been informed of the Dhule incident through unverified sources and are investigating the facts. People panic due to lack of oxygen. For the past two days we have been piloting vehicles that transport oxygen cylinders or gas tankers from their places of origin to destinations across the state in order to avoid undesirable incidents, "said incumbent DGP Sanjay Pandey.
He said the police are coordinating the collection points and destinations of the vehicles with the district collectors and accordingly the respective district police are arranging escorts in their jurisdictions.
An official said oxygen vehicles are at risk due to increasing unrest among people due to lack of oxygen, especially in hospitals and nursing homes, some of which have had to refuse patients the emergency room. Late Tuesday, people stormed into the storeroom of a hospital in Madhya Pradesh and ransacked oxygen bottles.
As of April 16, police have also recorded 18 cases of 32 people being booked to black market Remdesivir. People include a doctor, a pharmacy owner, and a drug dealer. Four of the cases were registered in Pune, followed by three in Nagpur, two in Mira-Bhayander and one each in Aurangabad, Nandurbar, Nanded, Bhandara, Latur, Pune Rural, Kolhapur, Parbhani and Ahmednagar.
All police stations in the state have been asked to coordinate with Food and Drug Administration officials to take action against those involved in the marketing or hoarding of remdesivir, Pandey said.
Oxygen is critical for Covid-19 patients whose condition is deteriorating. The government has banned manufacturers from supplying oxygen for industrial purposes, with exceptions, after hospital demand rose sharply in recent days.