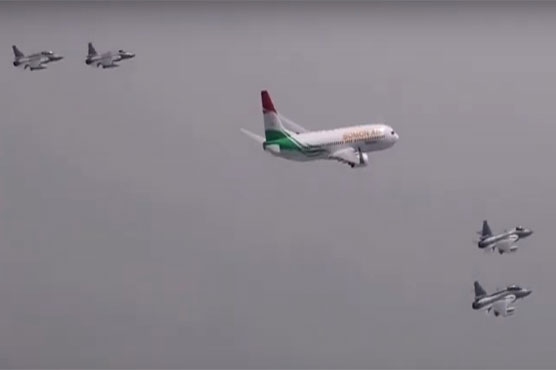 Posted on June 3, 2021 at 5:27 am
It is the unique tradition of the PAF to honor the heads of state of friendly countries.
ISLAMABAD (Dunya News) – A formation of JF-17 Thunder aircraft belonging to the Pakistani Air Force (PAF) presented a ceremonial air escort to Tajik President Emomali Rahmon's aircraft as it entered Pakistani airspace.
The head of the JF-17 formation brought greetings to the President of Tajikistan. HE Mr. Emomali Rahmon returned the gesture by thanking the leader of the JF-17 formation.
At this point it is important to mention that it is the PAF's unique tradition to honor the heads of state of friendly countries on their official visits to Pakistan.
Tajik President Emomali Rahmon arrived in Islamabad on Wednesday for a two-day official visit. Federal Minister for Industry and Production Khusro Bakhtiyar received President Rahmon at the Nur Khan Airbase. The Tajik President is accompanied by a high-ranking delegation.
An official welcoming ceremony in honor of President Rahmon was held at the Prime Minister's House in Islamabad, where Prime Minister Imran Khan received the head of state.