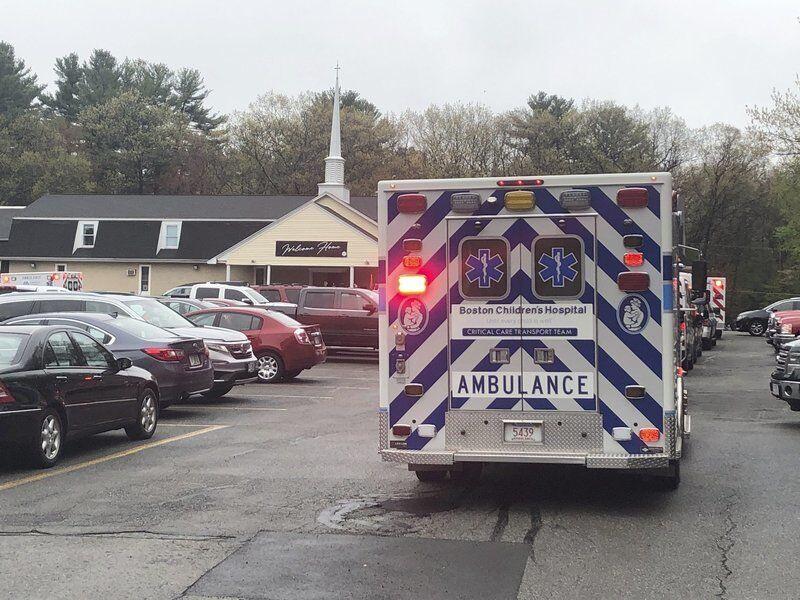 SALEM, NH – Nicole Aries was working on the tailgate of a pickup truck Wednesday morning, putting the finishing touches on a sign she created in memory of Scott Couture, a paramedic at Lawrence General Hospital.
"If you don't do legendary (things), you can't be legendary," she read the sign she later held up on Route 28 as dozens of emergency vehicles drove by in Couture's funeral procession.
Aries is among hundreds of first responders who attended Wake Tuesday and Funeral Wednesday for couture nicknamed "Cooch" and "Dirty". He was an EMT who worked in Lawrence and the Merrimack Valley for 30 years. Couture has been loved by many for his compassion and empathy as an EMT, as well as his fun-loving personality that knows no bounds.
Couture, 55, father of five and grandfather of eight, died Friday after a three-year battle with esophageal cancer. He and his wife Jennifer were married for 10 years.
His brother, Lt. Wayne Couture, retired from the Lawrence Fire Department.
Hundreds of paramedics and paramedics lined up outside the Rivet funeral home in Merrimack, New Hampshire, on Tuesday evening.
Then, on Wednesday at 10:40 a.m., the couture hearse was accompanied by a multitude of police cruisers, ambulances and motorcycles from the funeral home.
A large group of coworkers and friends gathered in the Kohl parking lot on Route 28 in the meadow along the freeway to watch the procession on their way to Granite United Church at 1 Sandhill Road in Salem.
Firefighters hung a large American flag hung from a hand truck in Salem over the entrance to the church.
Because of the pandemic, only 65 people were allowed to attend the funeral.
However, the services were broadcast live and dozens gathered at Lenzi's restaurant in Dracut to watch the negotiations.
Couture was born in Lawrence on January 11, 1966. He was the son of the late Florian and Daisy (Campton) Couture. He graduated from the Greater Lawrence Technical School in 1984.
When he wasn't working, Couture enjoyed kayaking, playing bass guitar, riding both bikes and motorcycles, and watching the patriots, but he particularly enjoyed spending time with family and friends.
Follow reporter Jill Harmacinski on Twitter @EagleTribJill.