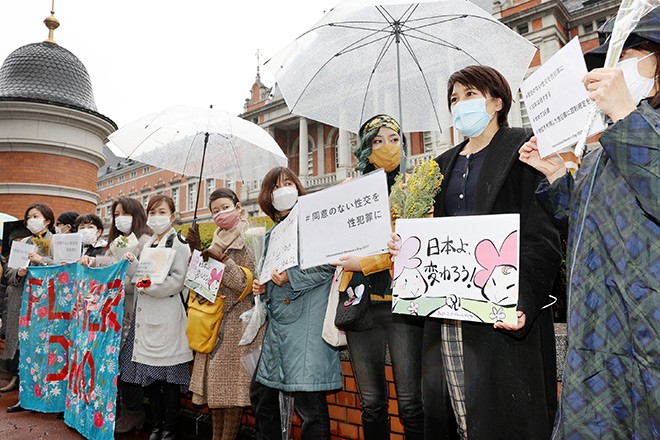 At a rally against sexual violence in Tokyo on March 8, International Women's Day, protesters again called for legal reforms to make all forms of non-consensual sexual offenses criminal.
Noriko Morisawa, 49, who lives in Kanagawa Prefecture, attended the rally. Her biological father sexually abused her for several years from the age of 14.
"It is simply wrong that assault or intimidation is required to charge criminals with non-consensual sex," Morisawa said. "All forms of non-consensual sex and sexual acts must be punished."
The current criminal law was revised in 2017 so that victims no longer have to file a complaint to accuse offenders of sexual violence.
However, victims and experts have raised concerns about the difficulty of punishing offenders for non-consensual sex. According to the current criminal law, "violent sexual intercourse" and similar offenses are only recognized as such if they are committed through "bodily harm or intimidation".
Critics are calling for this requirement to be abolished or relaxed and for a legal provision to be made to recognize inconsistent sex and other similar forms of undesirable sexual activity as a criminal offense. In this way, victims will no longer be forced to give up efforts to punish offenders.
The anti-sexual violence rally, known as the "flower demonstration," began shortly after noon outside the Ministry of Justice building in the capital's Kasumigaseki district.
The protesters held up flowers and signs reading, "Make all forms of non-consensual sex offenses criminal" and "Create a law to punish offenders for sex crimes if they use their status."
The protesters are calling on the government to pass criminal reviews that better reflect the reality of sexual violence – calls that come when the ministry's panel of experts examines and discusses the matter.
"We believe the legislative changes are necessary based on what we have heard from victims of flower demonstrations over the past two years," said Minori Kitahara, author and one of the organizers of the demonstrations that have been held regularly in the past couple of years.
The committee of experts set up by the ministry has been considering revisions to the law since June last year. The 13th meeting took place on March 8th.
After examining the panel's findings, the Justice Minister must decide whether to consult the Legislative Council, which will advise the Minister on whether any legal changes are required. However, the government has not set a specific deadline for reaching a conclusion on this issue.
The Panel agrees that the current law does not address actual cases of non-consensual sex.
However, some members are cautious about introducing a new provision to make lack of consent the only requirement to treat such forms of sex as a criminal offense.
Some have argued that this type of change could make it difficult to determine guilt in sex crime cases, while others have raised concerns about a possible decline in the conviction rate.