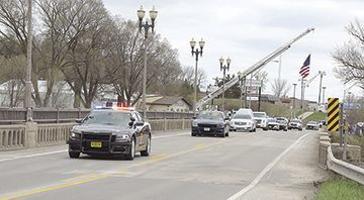 INDEPENDENCE – In the early hours of April 10th, news of the Iowa State Patrol (ISP) Sergeant Jim Smith # 462 was murdered.
On Saturday afternoon, the Iowa Department of Public Safety (IDPS) organized a press conference at the Grundy Center to review Sgt. Smith's death and review the previous evening's events.
"Last night Iowa State Patrol Sergeant Jim Smith died a hero," said Stephan Bayens, IDPS commissioner. "He was shot trying to arrest a barricaded subject. He sacrificed himself to protect others. Sgt. Jim Smith was a protector of the innocent, Sgt. Jim Smith was a keeper of justice, Sgt. Jim Smith was a man of God. "
Next to speak was Mitch Mortvedt, Deputy Director of the Criminal Investigation Department.
According to Mortvedt, around 7:30 p.m., a Grundy police officer ran over a driver who is known not to have a valid driver's license. The driver, Michael Thomas Lang, heard "Shoot me" several times and attacked the officer. A Grundy County MP came next and ordered Lang to put his hands up. Lang replied: "Come get me" and fled. He was later found at his home at 305 G Avenue in the Grundy Center. Additional officials responded to contain the area.
Mortvedt said Lang's father arrived at the scene and told officers that his son had many guns in the house. Sgt. Smith and other ISP soldiers arrived just before 9 p.m. Police officers set up a perimeter and announced their intention to enter. When officers were evacuating the upper floor of the residence, Sgt. Smith was shot. He was taken a few blocks to Grundy County Memorial Hospital, where he was pronounced dead after a gunshot wound.
In the meantime, Lang barricaded himself inside the house, mocked the police, and said he shot Sgt. He and Smith were about to shoot other officers. At one point during an hour-long hiatus, Lang was seen holding a black pump-action shotgun.
At around 11:50 p.m., a tactical ISP team attempted to enter the residence with a newly acquired armored personnel carrier on wheels. During the entry, Lang shot several rounds at the people carrier. Officers returned fire. Lang was subsequently taken into custody by members of the ISP tactical team. He was taken to the University of Iowa hospitals. After the operation, he was listed in critical condition.
Lang was charged with murder on the first degree. The investigation is still ongoing.
According to the Iowa State Patrol, Sgt. Smith, a longtime resident of Independence, began his career in 1993 as a member of the Department of Public Security's 19th Basic Academy. As a soldier, he was stationed in Fairfield District 13 for the first time. In 1996 he moved to District 10 – Oelwein. According to a 2018 profile, Sgt. Smith "does his job consistently every day, with driver safety a top priority and an" I can make a difference "attitude … Trooper Smith exceeds all expectations and is a positive role model for his colleagues. He has taken on the role of leader in Area C's tactical team and devoted time to completing the team's tactical mission. Trooper Smith is active and well known in his community, and volunteers at school, church, and community events. "
Left home to mourn Sgt. Smith is his wife, Kathy, and two children, Zander, a 2019 graduate of Independence High School and currently at Missouri Baptist University with a major in criminal justice, and Jazlyn, a member of the IHS 2021 class.
On Sunday April 11th, Sgt. Jim Smith was brought back to independence by other law enforcement and rescue services. Many stories were told of how each overpass along the way was full of people – both community service providers and citizens – paying their respects. More than 100 cars from across northeast Iowa, including local law enforcement and rescue services, were in the procession that made the final mile to the funeral home. Highway 150 was lined with officers, first responders, Boy Scouts, and citizens, many with flags, some with hands over their hearts, all in solemn silence.
Funeral arrangements have been made and are in Sgt. Smith's obituary, printed in today's Bulletin Journal.
The Iowa State Patrol has Sgt. Smith's patrol car in the District 10 Office at 15239 35th Street in Oelwein. Items left by mourners are collected for the family.
Another way to honor Sgt Smith is to help The Flagman's Mission Continues. They are looking for volunteers to set up flags along the route of the funeral procession. They will meet on Wednesday (today) April 14th at 3:45 pm at Independence Junior / Senior High School. Volunteers should be able to lift 5 pounds, wear comfortable shoes, and bring gloves. Those with clean pickups will also be needed to hand out flags. Volunteers will also be needed to pick up flags again at the high school on Saturday morning from 9:00 a.m.
The shooting of Sgt. Smith brings the total to 11 Iowa soldiers who made the ultimate sacrifice in the service. This is the second time since the soldier Oran Pape on April 29, 1936 that a soldier was shot while on duty.
Sgt. Smith is the third Independence law enforcement officer to be killed on duty. The first was the Independence Patrol Pitt McClellan Doxsie. According to the Officer Down Memorial Page, Patrolman Doxsie was shot and killed while patrolling downtown on horseback on October 26, 1897. His body was found in an alley. His murder was never solved.
The second was Officer Harold Humphrey Pearce. Officer Pearce was shot while trying to escape by a teenager he had just arrested on January 5, 1956. Eighteen year old suspect Warren "Jack" Nutter has been convicted of first degree murder and sentenced to life in prison. Nutter remains at Fort Madison Penitentiary and is Iowa's longest serving inmate.