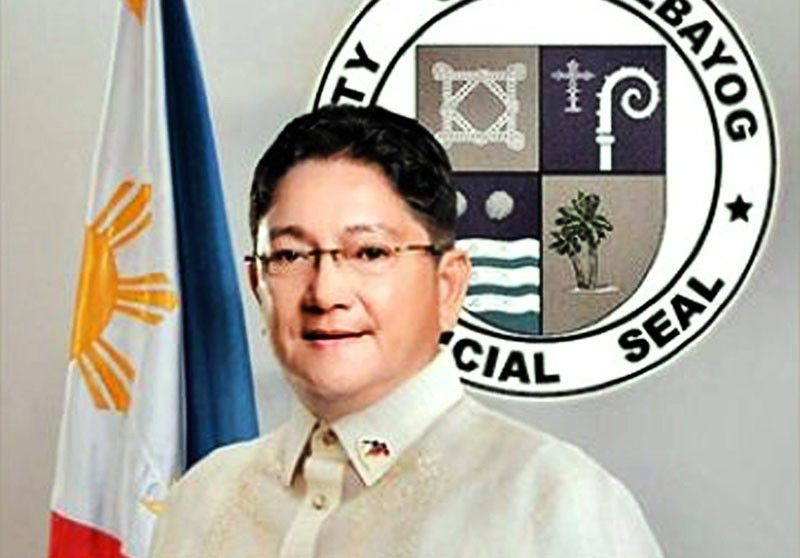 MANILA, Philippines – The Mayor of Calbayog City, Samar, and five others, including a city police chief, were killed on Monday in what authorities called a clash between the local director general's security escorts and drug control officers.
Eastern Visayas Police have formed a special investigation team to look into the circumstances of the incident, which took place at around 5:30 p.m. on Monday at Laboyao Bridge in Barangay Lonoy, Calbayog City.
59-year-old Mayor Ronaldo Aquino was on his way to his son's birthday party north of Calbayog in a Toyota Hi-Ace van when his bodyguards reportedly opened fire on several vehicles they believed would be chasing them.
The people in the other vehicles turned out to be lawyers from the Integrity Monitoring and Enforcement Group (IMEG) and the Provincial Drug Enforcement Unit (PDEU).
Aquino, his van driver Dennis Abayon (33) and the police escort S / Sgt. Rodeo Sario, 40, were killed in the exchange of fire.
S / Sgt. Romeo Laoyon, an employee of the Samar Police Provincial Office, died on the spot.
PDEU Commander and Gandara City Police Commissioner Cpt. Joselito Tabada was found dead under the bridge at dawn yesterday.
A civilian, unidentified by police, was also killed after being caught in the crossfire.
Aquino's aide, Mansfield Labonete, 29, and local government clerk Clint John Paul Yauder, 26, were wounded.
Yauder, whose car was passing by but caught in the crossfire, reportedly died while being treated at St. Camillus Hospital in Calbayog City.
A Laoyon and Tabada companion identified as S / Sgt. Neil Cebu was also wounded. Cebu, a police officer from a K9 unit, was rushed to hospital.
Other police officers in the Tabada's group's vehicle were reportedly detained by investigators.
Police director of the Eastern Visayas Brig. General Ronaldo de Jesus said Aquino was not the target of police officers directed to another operation.
"I can only assume that it was a mistake and our police were suspected, so they opened fire and the police returned the favor," De Jesus said in a telephone interview in English and Filipino.
According to the Philippine National Police (PNP), Aquino's security escorts were the ones who allegedly started the police shooting on Monday.
PNP spokesman Brig. General Ildebrandi Usana said yesterday that Aquino's bodyguards had opened fire on an unmarked vehicle used by IMEG and PDEU lawyers that was heading in the same direction.
"Mayor Aquino's group reportedly started the shooting when his security service shot at the unmarked vehicle belonging to the IMEG-PDEU group," Usana said in a statement.
Usana described the clash as an "unfortunate incident" that is currently being investigated by a special investigation group (SITG).
Impartial probe
Justice Minister Menardo Guevarra yesterday instructed the National Bureau of Investigation (NBI) to conduct an impartial investigation into the assassination of Aquino.
Guevarra expressed belief that the NBI should conduct a separate investigation into the incident involving the ambush, which resulted in the death of at least five other people, as police officers were reportedly identified as suspects in the killings.
"We would refer the matter to the NBI for the simple reason that the other party involved is from the PNP. The information we have gathered so far is that the (Aquino group) had an encounter with suspected police officers, "said Guevarra.
"So, as there are different versions, today I am instructing the NBI to investigate the incident in order to conduct an objective and impartial investigation," he added.
However, the SITG will continue its investigation even if the NBI intervened in the investigation, according to De Jesus.
"We will be working with the NBI, but the company created by SITG will continue to investigate," he said in a text message.
Palace condemns killing
Malacañang yesterday condemned Aquino's killing, as he warned that the incident could mark the start of election-related violent incidents.
"We condemn this because the right to life is the most important life. We are alarmed that a mayor has been killed because it could be the start of political assassinations at a time when elections are approaching, "President spokesman Harry Roque said at a press conference.
"In a democracy, people vote for leaders, and our appeal is to let people vote for who they think will be most effective at leading. Political violence has no place in a democracy, "he added.
"Clean, Independent"
Vice-President Leni Robredo yesterday condemned Aquino's assassination despite calling for a "clean" and "independent" investigation into the mayor's death.
"At other times, we may be surprised by this terrible news … But we are at a time when many seem to have become deaf to the violence and culture of murder," she said in a statement.
"We never tire of expressing ourselves. We will not stop pressing for the right, dignity and worth of human life. We call for a clean, competent and independent investigation into the death of Mayor Aquino and the prosecution of his murderers, "she added.
The Vice President stressed that the killings of mayors, community organizers, lawyers, judges, journalists, children and drug suspects should not be treated as normal.
"We need to connect the dots between these gruesome deaths and see the web that enables and encourages these murders: impunity, normalization and incitement to violence and the killing, killing, killing rhetoric that comes from the highest offices," she said. – Emmanuel Tupas, Evelyn Macairan, Alexis Romero, Helen Flores and Delon Porcalla